It is commonly said that everything is bigger in the US. California is roughly ten times larger than Denmark, and investments in the Californian water sector alone require more than DKK 30 billion pr. year, over the next few years. Nevertheless, as global leaders within water management and GHG reduction, much more unite Denmark and the world's fifth-largest economy when speaking of topics like water management and climate resilience.

As an example, both states share the commitment to digitalization, wastewater re-source recovery, reaching minimal water loss, sustainable groundwater management, and reducing climate impacts.

To leverage the shared ambitions, needs, and respective strongholds, Denmark and California now strengthen the partnership, as the two states signed a new Memorandum of Understanding (MoU), on March 9.
Exploring the potential of water management in creating a resilient climate future
Many people say that if climate change is a shark, water is its teeth. Meaning that many of the harmful impacts we are experiencing from climate change, we experience through worsening drought and flooding
Both Denmark and California recognize the importance and potential of water management in creating a climate-resilient future. Therefore, climate resilience is an integral part of the new MoU, which has a strong focus on:
Sustainable and efficient water supply
Climate-friendly and efficient wastewater treatment
Sustainable innovation to stimulate technology and financial innovation and facilitate entrepreneurship within the water sector
Water policies are contributing to the transition to a carbon-neutral economy.
At the virtual launch yesterday, Amb. Eleni Kounalakis, Lt. Governor of California, shared her thoughts on the importance of collaboration when she gave her opening remark.
"California currently experiences a dryer than a normal rainy season. Periods like this are likely to become more frequent as a result of climate change, underscoring how important collaborations like this are. Today, California and Denmark formally commit to continuing our work on climate resilience, water efficiency, and water management".
The Minister for Environment of Denmark, Lea Wermelin, also shared her excitement from a Danish perspective before she proudly presented the signed document to the attending crowd:
The Golden State of California is indeed a world leader, not only on technology but also on climate action. It makes me very proud that we now take further steps to expand our successful partnership.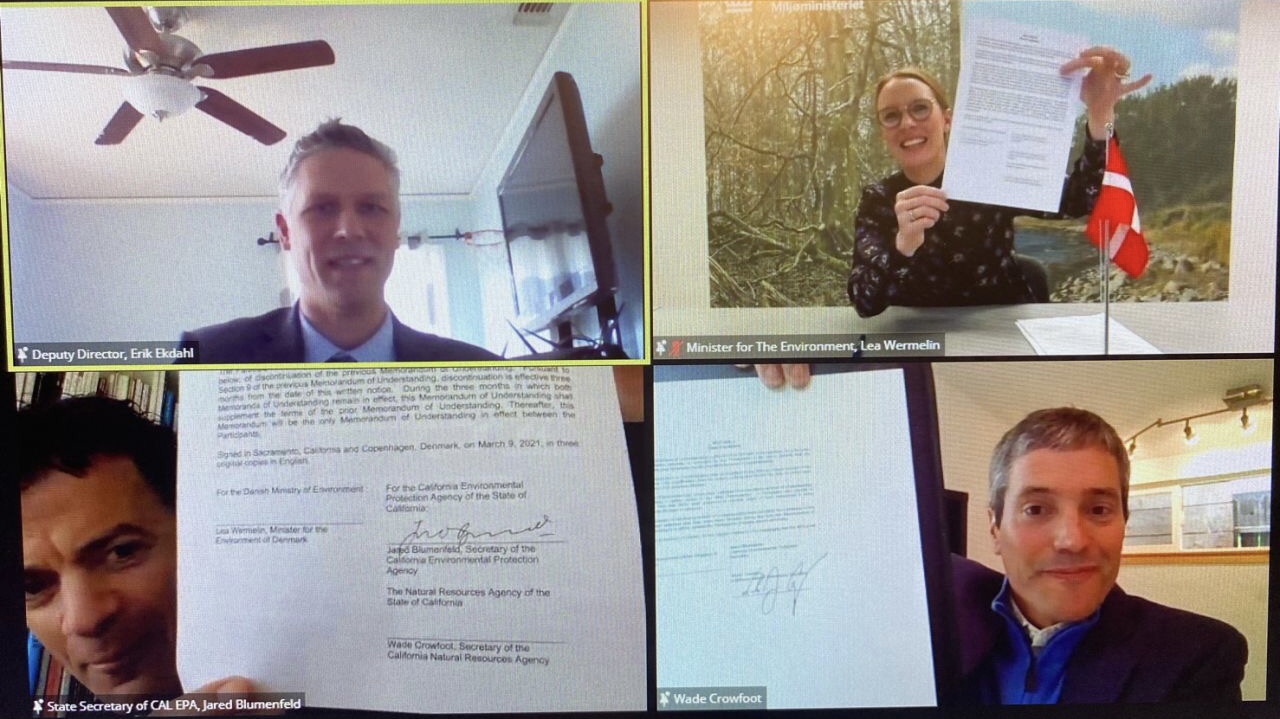 Building upon a fruitful partnership: Knowledge-sharing has led to joint advances
In California, water is a limited and in-demand resource due to drought and rising temperatures. Simultaneously, the increasingly unstable climate is causing more floods and putting pressure on the state's aging water infrastructure.
Since 2017, Denmark and California have successfully collaborated on i.e., advancing geophysical groundwater management – a project headed by Stanford University, California Department of Water Resources, and several Danish companies with support from the Danish EPA.
"We benefited from our past partnership with Denmark by gaining a better under-standing of how water managers in Denmark have adapted to a more sustainable groundwater management system in the face of ongoing climate change-related impacts," Secretary for Natural Resources Jared Blumenfeld stated in his remarks.
Over the last few years, this collaboration has proved that International partner-ships and knowledge-sharing are vital tools in transition times. Therefore, the out-look for the renewed partnership is very optimistic indeed.
I am optimistic that our collaboration will be key in lowering climate impacts related to water management - and I hope that it will be inspirational to multiple actors in our states and certainly on a global level.
Highlights from the official MoU-event
On March 9, 2021, state officials and water professionals gathered at a virtual signing ceremony to celebrate the new MoU.
Erik Ekdahl, Deputy Director for the Division of Water Rights at State Water Resources Control Board, moderated the dialogues, and a
mong the speakers were:

Amb. Eleni Kounalakis, Lt. Governor of California
Minister for Environment of Denmark, Lea Wermelin
Secretary for Natural Resources, Wade Crowfoot
Secretary for Environmental Protection CA, Jared Blumenfeld
Ambassador of Denmark to the U.S. Lone Dencker Wisborg
Professor of geophysics at Stanford University, Rosemary Knight
Chair of State Water Resources Control Board, Joaquin Esquivel
As one of the highlights, Rosemary Knight, Professor of Geophysics at Stanford University, shared interesting insights on groundwater mapping from the Danish-Californian project.
Last but not least, the three specialized workshops following the signing ceremony explored the potential for collaboration on wastewater resource recovery, optimized water distribution, and digital asset management.
You can watch the recordings of the virtual events on demand below:
Contact
Do you want to know more?
If you want to know more about the Memorandum of Understanding or the water sector's role in creating a climate-resilient future, you are welcome to contact Head of Water, Jesper Køks Andersen at
[email protected]
.
Loading...